The Prelate
Archbishop Oshagan Choloyan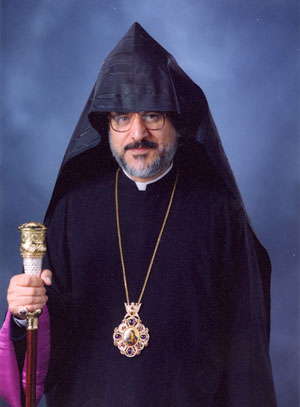 Archbishop Oshagan was born in Aleppo, Syria, in 1947, and was baptized with the name Manoog. He is the third of six children of Antranig and Marie (nee Kasbarian) Choloyan. His siblings are Sarkis, Simon, Vartan, Armen, and Ani. His two older brothers, Sarkis and Simon, died in 1998 and 1999 respectively, making Oshagan Srpazan the eldest of the surviving children. He received his primary education in Aleppo's Haikazian School. His childhood in Aleppo in the midst of that community made up of survivors and their young families made a lasting impression on young Manoog and it could be said that many of his values and lessons of life were formed there in Aleppo.
By 1959, young Manoog knew that he wanted to enter the Seminary and devote his life to the Armenian Church. In 1960 he was accepted into the Cilician See's Seminary in Antelias, Lebanon.
Manoog Choloyan was ordained a deacon in 1964, and a celibate priest on June 4, 1967, and given the new name Oshagan, by Bishop Karekin Sarkissian, who in 1994 as Catholicos Karekin II of Cilicia, ordained him to the Episcopal rank. In 1998, His Holiness Aram I elevated him to the rank of Archbishop.
As a newly ordained celibate priest, Archbishop Oshagan served as an assistant at the Seminary and he taught at the Mardigian School, serving two years as principal of the school. From 1968 to 1970 he attended the American University of Beirut, where he majored in history. From 1970 to 1974 he taught literature and religion at the Karen Jeppe Jemaran in Aleppo, and also served as a teacher and later principal at the Sahagian National School.
In 1971 he received the rank of vartabed (doctor of theology) with the successful completion of his thesis.From 1974 to 1978 he attended Princeton Theological Seminary where he majored in education and psychology, earning a Masters Degree. Continuing his studies at Princeton, he earned a second Masters in the history of the church.
In May 1977, he was called upon to serve as locum tenens of the Eastern Prelacy for eight months prior to the election of a new prelate. The incumbent prelate, Archbishop Karekin Sarkissian, had been elected Catholicos of Cilicia in May and a new prelate was not elected until December. He shepherded the Prelacy until the arrival of Archbishop Mesrob Ashjian in January 1978.
In April 1980, His Holiness Karekin II appointed him pontifical legate to Kuwait and the Arab Emirates.
For the present, His Eminence's message to every Armenian is this: "Do not just stand on the sidelines, come into the arena, be active, be a participant, always with the goal of building the Church and making it stronger for the glory of God."